Chemical Safety Goggles Anti Fog Scratch Resistant UV Protective Z87+ XPR36 Encon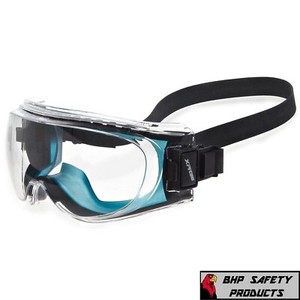 Buy This Item
ebay.com
Features
Model: VENTED LAB GOGGLE
MPN: XPR36
Lens Treatment: Anti-Fog
Glasses Size: Wide
Frame Style: Goggles
Lens Color: CLEAR
UPC: 792360601019
User reviews
Of the 4 goggles I tried, this is the most well-made and BY FAR THE BEST. It is the most comfortable (key in long term google wear) and easy to use. Pay attention to that green soft rubber lining - it is what separates this googles from the rest. It makes for a tighter seal and more comfortable wear.
These look and feel like they are good quality goggles. Unfortunately, they dont fit my faece at all. They are too wide and made too rigid to meet the sides of my face no matter how tight I make the strap. I bought too pairs to wear to work in the ER, but I ended up just giving them to some coworkers. I am a female with what I thought was a normal sized face? So I was a little disappointed to find that they wouldnt fit at all.
Needed some decent quality goggles that fit around my entire face(eyes) so that I could renovate my bathroom without getting particles in them. These are perfect for that. Be aware that they do "sweat" on the inside of the lens in hot temps because they dont have venting but really, small complaint. Adjustable rubber strapping makes it simple and doesnt hurt my head. Would buy again!
These feel so great on the face. Of 5 brands . We like this brand the most. We'll be looking for more . Hands down the best low end goggles around. "The best"
I love these goggles. Would not be without them. Great product. Great packing and arrived on time. Thank you.