Dewalt Converter Safety Glasses Goggles In/Out Anti Fog Lenses Foam Padded DeWalt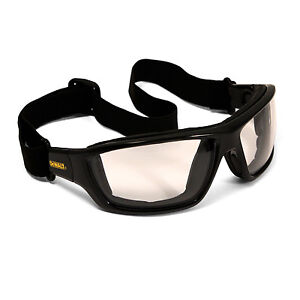 Buy This Item
ebay.com
Features
Country/Region of Manufacture: Taiwan
MPN: DPG83-91
Product Type: Safety Glasses
UPC: Does not apply
User reviews
Great quality product! Fog free! Totally adjustable! Has both ear pieces and elastic band. The headband goes on and removes with no problem, however the left ear piece is very difficult to remove! I use them everyday welding, grinding & cutting and they are great, keeps hot slag and sparks from your eyes without feeling like you're wearing goggles all day!!! The ICE tint is nice too!
Very nice clear glasses, even knock down some glare. I've never noticed that before so I'm wondering if that's a new feature. Very good purchase thanks.
Good product, good quality but it fogs very quickly. It's an ok goggle given the straps or legs to choose from and not too uncomfortable but they fog rather quickly, I d say move on consider a different option.
Love the seal and just the right tint definitely a great product