Dewalt DPG55-11C Clear Anti-Fog Protective Safety Glasses Rubber Frame/ Temples DEWALT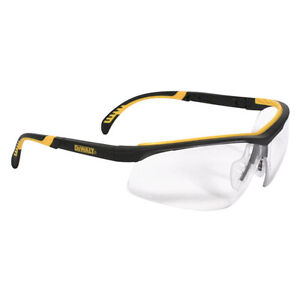 Buy This Item
ebay.com
Features
Model: DPG55-11D
MPN: DPG55-11D
dominator safety glasses: dewalt safety glasses
Lens Color: Clear
UPC: 674326221663
User reviews
Great safety glasses! They haven't fogged up on me while wearing a mask as well. Very clear lens and many adjustments you can make to get the best fit on your face. Glad I purchased them.
These glasses are the most adjustable that I have ever used for which makes them by far very comfortable to wear for a long period of time. No slipping down the nose or fogging up and light weight to boot.
I love these for going to the range. The adjust ability of angle is really nice to provide comfort for hours at a time. And you can't kill them...
I wear these 10hr to 12hrs a day at work... I can't tell they r on my face... very comfortable... I'll b drippin off sweat and still no fog up... I love the nose piece Bc it doesn't make ur nose raw... the product all together is amazin... I highly recommend them if u have 2 wear em as much as I do
I bought these to use in the operating room because I have to wear a mask 100% of the time and hot air that escapes from the mask causes my glasses to fog. Not only do these fog up they collect condensation which totally blocks my view. These did not work for me.