Lysol Toilet Bowl Cleaner with Lime and Rust Remover, 2 x 24 oz (Pack of 3)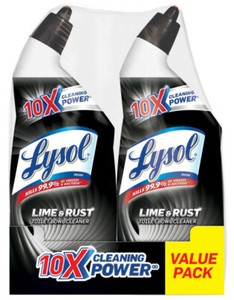 Buy This Item
ebay.com
Features
Size: 24 Oz
Type: Surface Cleaner
Color: Black
Form: Liquid
Custom Bundle: No
MPN: ASA-177
UPC: 0019200899574
EAN: 0019200899574
User reviews
If you have a toilet with lime stains -- perhaps in a guest bathroom where it not used often and the water stands -- this is a great product. I tried all sorts of things (Coca-Cola, strong solutions, etc.). Nothing did as well or worked as quickly as this product ... which is not always easy to find in a supermarket. That's why it was great to find it on eBay.
Really does get the rust out of, not only your toilet, but the tub too! Excellent product!
This is by far the best Toilet Bowl Cleaner I have ever used. If your on the fence you won't be disappointed.
This is the best rust remover there is on the market, but I don't know why there not selling it anymore??
Amazing for cleaning sinks, showers and other items.